# let's cut the electric bills upto 40%
Energy storage Hybrid Inverter
Eco-Energy storage Hybrid Inverter - perfect for your home.
Energy storage Hybrid Inverter
Flexible
Wide input voltage range.

Compatible with lead-acid or lithium-ion batteries or other battery.
Reliable
Compatible anti counter flow function.

Battery reversed connects protection.
Advanced
Intelligent energy management system for the home.

Power dispatch and demand-side response management.

Distributed virtual power station management.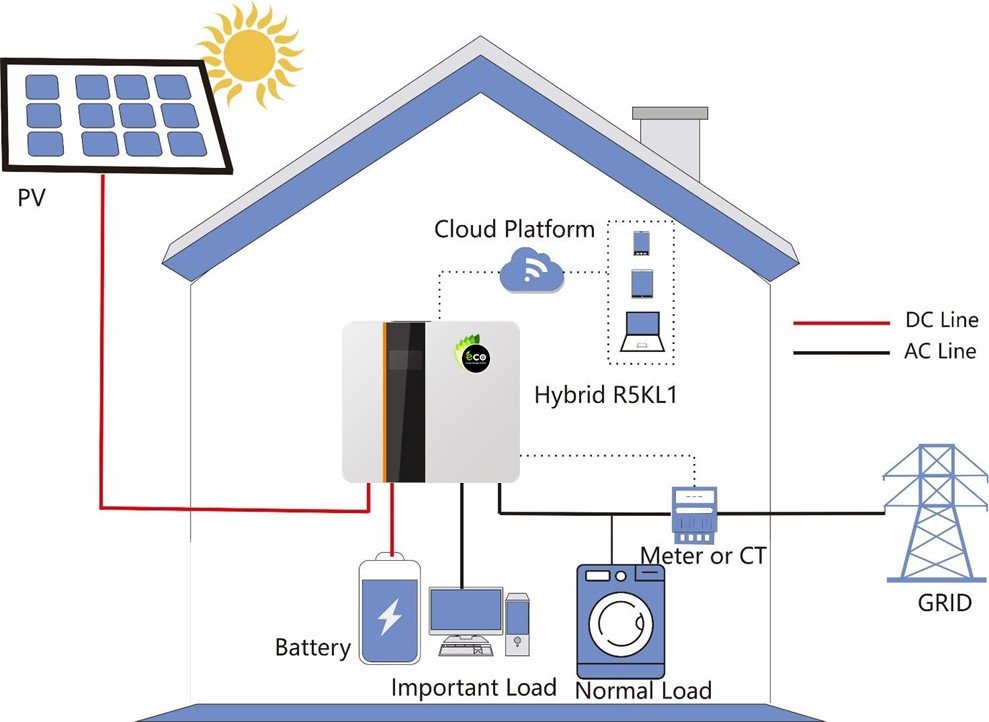 Renewable Energy Storage System
Specification
Model

ECO-R3KL1

ECO-R3K6L1

ECO-R4KL1

ECO-R4K6L1

ECO-R5KL1

ECO-R6KL1

DC input

 

Max. Input Power

4600W  

6000W

7000W

Start-up voltage

125V

Max. PV voltage

550V

MPPT range/nominal

125V-550V /360V

Max. input current

14A/14A

MPPT tracker/strings

2/1

AC output

 

Rated power w/va

3000VA/3000W

3600VA/3600W

4000VA/4000W

4600VA/4600W

5000VA/5000W

6000VA/6000W

Max. output current

13A

16A

17.4A

20A

21.7A

26A

Nominal voltage/range

230V /180Vac~280Vac

Frequency

50 /60Hz

PF

1(0.8lagging-0.8leading)

THDI

<3%

AC output topology

L+N+PE

Battery

 

Battery voltage range

42~59V

Max. charging voltage

58V

Charge/discharge current

95A/62.5A

95A/76.6A

95A/83.3A

95A/95.8A

95A/110A

95A/110A

Battery type

lithium /Lead-acid

Communication interface

CAN/RS485

EPS output

 

Rated power w/va

3000VA/3000W

3600VA/3600W

4000VA/4000W

4600VA/4600W

5000VA/5000W

6000VA/6000W

Rated voltage

230Vac

Rated current

13A

16A

17.4A

20A

21.7A

26A

Rated frequency

50 /60Hz

Automatic switchover time

<20ms

THDU

<2%

General data

 

Battery charge/discharge

95.5%/95%

DC max. efficiency

97.6%

Euro efficiency

97%

MPPT efficiency

99.9%

Protection class

IP65

Noise emission (typical)

<35dB

Operation temperature

-25ºC~+60ºC

Cooling

Natural

Relative humidity

0~95% (non-condensing)

Altitude

2000m

Dimensions (WXDXH)

550X200X515mm

Weight

25kg

Inverter topology

Without transformer

Self-consumption

<3W

Features

 

Display

LCD

Interface:rs485/WIFI/lan /can/drm

yes /opt/opt/yes/yes

Certificates

CE、TUV
FAQ
Best Quality
Always get the best quality from ECO ESS
Professional​
Our Professional team will help you from ordering to delivering
Consulting​
Feel free to consult ECO ESS representative for any query
Relevant Search Categories